Using old-school terminals forces you to manually tally profits, sales and transaction totals month over month and year over year. If you need quarterly reports, you must compile totals per terminal and per department for three consecutive months. Bottom line: Old-school terminals don't produce sufficient data for your business reporting.
Fortunately, Virtual Terminals like ours tally for you so your business reporting runs automatically. Pretty nice, right?
Cumulative Business Reporting
Maintaining revenue records manually is inefficient and susceptible to human error. Our cumulative reports save time and provide greater insights into business trends:
The cumulative business reporting in our Virtual Terminal allows you to view sales data at a macro or micro level. High-level information, such as total charges, refunds and net processing is at the top. As you move down, sales are broken out by payment method and then by account, showing both settled and unsettled batches.
You'll be able to get a quick glance of each account's performance across custom time periods as well as compare performance in a previous year or quarter to the current one. The cumulative reporting mitigates the intensive work needed to prepare for presentations, proposals or bookkeeping.
Year-Over-Year Business Reporting
Our year-over-year report gives businesses the ability to examine two years of gross credit card sales side by side to gain insights into seasonality and relative sales performance.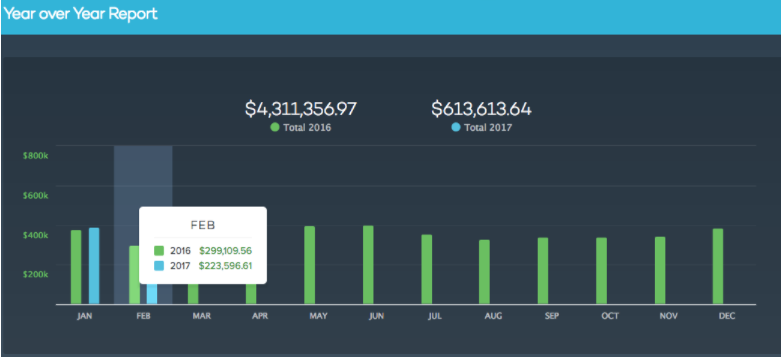 These thorough reports make it easier to set goals and make investments for the business. In-depth performance insights simplify decisions on hiring, opening a new location or increasing advertising spend — all of which depend on revenue.
Ready to simplify your business reporting? How would these beautiful, automated reports change the way you do end-of-month or -year reporting? Let us know what you think, we'd love to hear from you.