Education providers, ranging from day cares to universities, have a variety of industry-specific needs. Teachers at elementary schools might need to access dietary and emergency contact information for their students, whereas administrators at a college might need to update course information for student registration.
Luckily, there are software providers who remove tedious paperwork from the equation and make it efficient to store and access important school information. One such provider is Sycamore Education. With tailored services to cater to administrators, students, faculty, and parents, among others, Sycamore Education is the premier school management system and offers three distinct products:
Sycamore Daycare: Manages family information for easy emergency contact and pickup authorization, includes a day care calendar, attendance manager, centralized address book and more.
Sycamore School: Features an attendance manager, an online gradebook, school calendars, student and family information, a parent portal, discipline tracking, donor manager, an admissions portal, library manager and dozens of additional services.
Sycamore Campus: Allows administrators, teachers and IT staff to create and maintain course catalogs, campus calendars and emergency safety alerts; Facilitates attendance tracking, admissions management, tuition and fee tracking, grade processing, streamlined staff communication, document management and more.
All of Sycamore Education's products reduce repeated data entry and update data in real time. Users can access their information online through any device with an Internet connection. Sycamore Education's software reduces storage space and the time spent managing paper documents, all while benefiting the environment.
Additionally, parents, students and others who need to pay tuition, fees and donations can do so through Sycamore Education's integrated payment providers. With a shared ethos of providing their customers with an affordable, comprehensive product and outstanding support, Sycamore Education and PayJunction naturally entered into a partnership.
Here are some of the benefits to using Sycamore Education's software alongside PayJunction for your education management needs.
Next-Day Check Processing
Checks are a common form of payment for school-related expenses. That said, remembering to send a check on a recurring basis can be a hassle for parents and students, and can lead to numerous bank trips for the school admins.
PayJunction is an integrated payment provider, that allows you to store accounts on file. This means you can collect a customer's checking or savings account information once and safely store it on PayJunction for future transactions.
Having accounts on file enables schools to obtain one-time authorization, set a billing schedule and charge recurring or one-off transactions with the click of a button. With ACH processing, schools enjoy next-day deposits, boosting their cash flow. PayJunction makes it easy to identify delinquent payments and NOCs for easy customer follow-up.
When processing card-not-present transactions, education providers can still obtain a signature to protect themselves from chargebacks. PayJunction uniquely offers remote signature capture, allowing cashiers to email a copy of the receipt to a customer and obtain a signature via smartphone or desktop browser. The school's receipt copy is digitally stored and searchable by transaction date, customer name, transaction ID and other categories for the lifetime of the account. This feature eliminates the need to store paper receipt copies, and transactions can be segmented by department or location.
Cost-Effective Rate Plans
Not all payment providers can equip you with the same array of rate plans and services. If your school is processing a high volume of credit and debit card payments, it's not practical to pay the high rates associated with Flat rate pricing.
Instead, you can get set up with a Tiered or Interchange-plus rate plan on PayJunction. With Tiered pricing, transactions incur a fee based on the card's relative risk and reward. With Interchange-plus pricing, you pay the wholesale cost to run a transaction plus a consistent markup from your provider. Both are more cost-effective than Flat rate pricing, which charges you one high rate for every transaction type.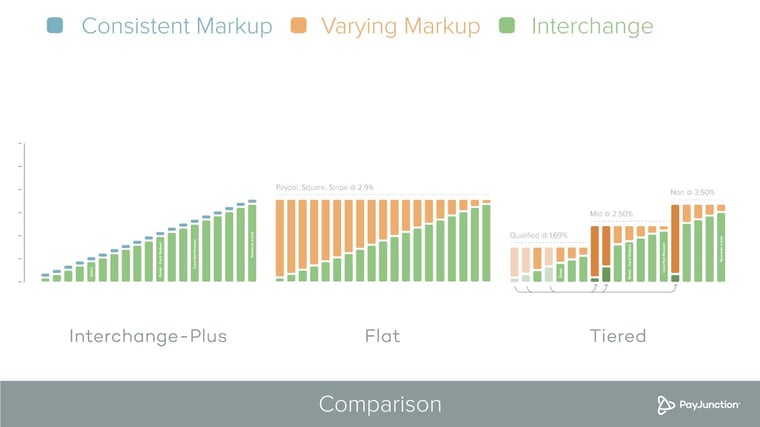 Commitment to providing boutique service, U.S.-based customer support and proper merchant underwriting, PayJunction offers direct support for any technical or payment-related inquiry to education providers who choose it as their integrated payment provider.
Process through PayJunction! Call us at 800-601-0230 x 1431.
Are you an education provider seeking a way to streamline your payments? How are you currently managing your paper receipts and recurring billing? We'd love to hear how PayJunction can help your school manage payments more effectively.