Welcome to PJ University, where we teach you how to use PayJunction like a pro. Today's lesson is how to capture remote signatures and reduce chargebacks.
If you ever need to dispute a chargeback, you will have to show the credit card company your customer's signature for the transaction. Merchants who use traditional terminals for card-not-present transactions have to fax forms to their customers to collect a signature, which is a hassle. But with PayJunction's remote signature capture, it's fast and easy. Here's how to collect a remote signature.
Let's start by processing a transaction. To do this, enter your customer's card number, expiration date, CVV, set the action to "Charge," and enter the amount. Next, enter their first and last name and click "Process." When the approval modal pops up, click "Email Receipt." Enter your customer's email address, make sure the "Request Signature" box is checked and click "Send Receipt." Now, click "Complete."
Your customer will receive an emailed receipt asking for their signature. Here's what it looks like on their end.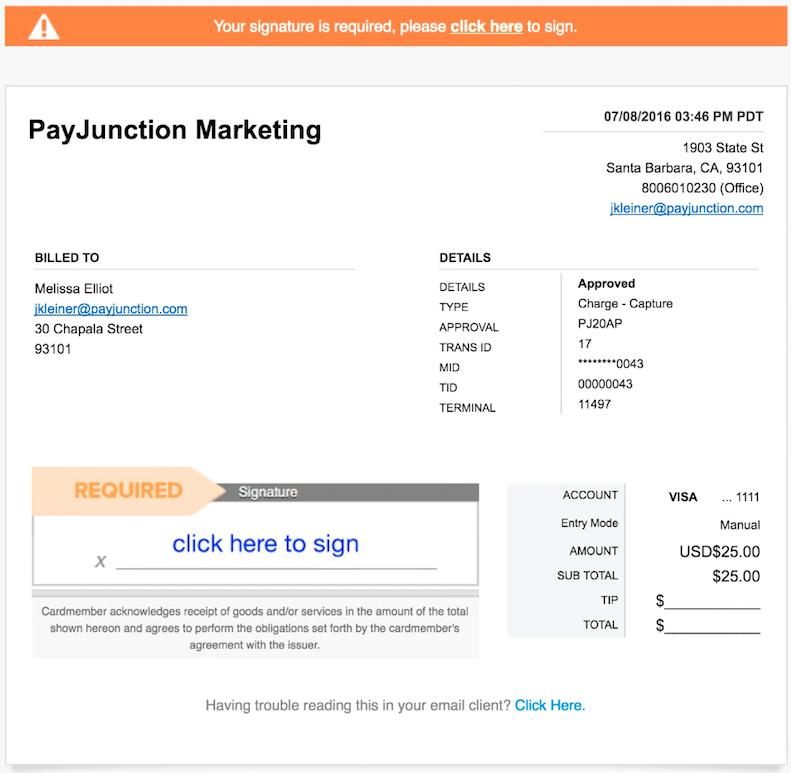 Once they click the "Click Here" link at the top of the email, a secure page will load with a signature request section. After clicking on it, they will sign with their mouse or touchscreen, type their name and click "I Agree." They will receive a confirmation email and their transaction will now have a signature in your PayJunction account.
You can also capture signatures for previous transactions. To do this, click on "Recent Transactions" from the menu. Find the transaction you'd like to collect the signature for, hover over the eye icon and click "View Transaction." When the transaction details page loads, click "Email Receipt" at the top of the page. Enter their email address and make sure the "Request Signature" box is checked, then click "Send Receipt." This will take them through the signature process.
Payment Processing Demo
Schedule 15 minutes with a payments expert
Get a customized PayJunction product walk-through
Understand requirements and pricing
Determine your SAVINGS!
How to Accept Credit Card Payments on Phone More Securely
It's ideal to collect a signature on every transaction to reduce chargebacks. Of course, accepting phone and online orders complicates this when only using a credit card terminal. Add our Virtual Terminal to the mix and you equip your business with the ability to collect a signature on every transaction.
Using remote signature capture allows you to protect your business against a few scenarios:
True fraud: This occurs when a card is used by a thief who acquired card information from a lost or stolen card, terminal skimmer or online hack.
Friendly chargebacks: These types of chargebacks are issued due to forgetfulness, the inability to recognize a purchase, or a family member or friend using the card. A friendly chargeback is filed without malice.
Chargeback fraud: This occurs when a chargeback is filed with the intent to receive a refund and keep the item. The purchaser is virtually shoplifting.
By collecting remote signatures, not only do you reduce chargebacks, but you also avoid the lengthy process that comes with every chargeback
Want more product information? Subscribe to our newsletter!
We thank you for completing this lesson! Get notified of future PayJunction University posts by subscribing to our blog.